Akane Kashiwagi
柏木あかね

Appeared in:

Relatives:

Hajime Kashiwagi (father)

Status:

Alive

Gender:

Female

Ethnicity:

Japanese

Portrayed by:

Akina Minami
Natsuki Kasa

[Source]
Akane Kashiwagi (柏木あかね Kashiwagi Akane) is a character from Ju-on: White Ghost, portrayed by Akina Minami and Natsuki Kasa. A sensitive, Akane had her best friend Mirai abused and murdered, and grew up in guilt for not helping her.
Biography
Edit
Childhood
Edit
Akane was best friends with Mirai and once visited her. Akane was told by Mirai that she was suffering from sexual abuse from her older brother Atsushi, only to be kicked off the house by Atsushi himself. As Atsushi touched her, Akane instantly felt something wrong in both him and the house, and tried to warn Mirai in vain. Outside, Akane saw Mirai screaming for help until Atsushi closed the window, and ran scared, leaving her helpless. The day after, Akane was thoughtful while her frisky father Hajime, a taxi driver, took her to school. Hajime disappeared after leaving her there.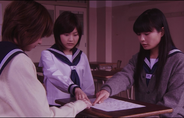 Akane grew up guilty for not helping Mirai and one day in school, was invited by her friends
Mayumi
and
Yuka
to play
Kokkuri
. Akane reluctantly agreed and was suggested to call for her deceased father. The coin, however, spelt Mirai's name, moments before her ghost itself manifested. Akane ran out of the class, leaving her friends puzzled. While going home, Akane walked by the former Isobe household, and remembered that she left Mirai helpless when she was abused, and concluded she kept seeing her due to her regret. When she finally arrived home, Mirai's ghost visited Akane once again, and left her bear keychain as a keepsake.
Akane and Hajime's father-and-daughter storyline is reminiscent of Izumi and Toyama's stoyline from Ju-on: The Grudge.
It is implied that Akane inherited her sensitive gift from her father, as Hajime had a glimpse of Atsushi in the backseat.
Akane is a rare instance of a Ju-on character that is not victimized by the title grudge curse and remains alive. She joins Lisa from The Grudge 3.