Hisayo Yoshida (吉田久代 Yoshida Hisayo) is a character from Katasumi, portrayed by Ayako Omura. Hisayo is friends with Kanna, through whom she is reached by the curse.
Biography
Edit
Hisayo fed her rabbits while Kanna was impatient and just wanted to leave their school. After Kanna accidentally cut herself, Hisayo left looking for first aid. When she returned, Hisayo found a trail of blood and the rabbit brutally killed. Terrified, Hisayo noticed a ghostly, pale woman creeping out of the bushes and haunting her. Terrified and raising her shovel in defense, Hisayo was then surprised by a horrifying apparition of Kanna rattling at her. Hisayo then passed out, paralyzed with fear.
Aftermath
Edit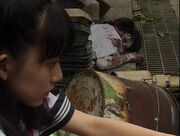 Hisayo's corpse was found twisted and broken alongside Kanna's jaw and the dead rabbits. Detectives Yoshikawa and Kamio investigated Hisayo and Kanna's mysterious inexplicable deaths before falling himselves as victims of the curse.
Notes and trivia
Edit